Courtyard Gallery
Oct 2016 World Cinema Screenings (every Friday at 8pm)

Oct 7th ~ "Chicken with Plums"
Director: Marjane Satrapi/Vincent Paronnaud (France/Germany 2011)
Since his beloved violin was broken, Nasser-Ali Khan, one of the most renowned musicians of his day, has lost all taste for life, and he decides to confine himself to bed and await death. As he hopes for its arrival, he plunges into deep reveries, with dreams as melancholic as they are joyous.

Oct 14th ~ "Who Is Killing the Great Chefs of Europe?"
Director: Ted Kotcheff (France 1978)
Mystery abounds when it is discovered that, one by one, the greatest Chefs in Europe are being killed. The intriguing part is that each chef is killed in the same manner that their own special dish is prepared in. Food critics and the (many) self-proclaimed greatest Chefs in Europe demand the mystery be solved.

Oct 21st ~ "Those Who Love Me Can Take the Train"
Director: Patrice Chéreau (France 1998)
Friends of a recently deceased minor painter Jean-Baptiste Emmerich take a train from Paris to Limoges where he is to be buried, attend his funeral, then gather at the home of his twin brother, Lucien. The mourners include fans, friends, lovers and family. Fascinating to, and desired by, both men and women, Jean-Baptiste's life was sexually charged and filled with intrigue.

OCT 28 ~ "Andy Warhol's, Blood for Dracula"
Director: Paul Morrissey, (Italy/France 1974)
Udo Kier is without a doubt the sickliest of vampires in any director's interpretation of the Bram Stoker tale. Count Dracula knows that if he fails to drink a required amount of pure virgin's [pronounced "wirgin's"] blood, it's time to move into a permanent coffin. His assistant (Renfield?) suggests that the Count and he pick up his coffin and take a road trip to Italy, where families are known to be particularly religious, and therefore should be an excellent place to search for a virgin bride. They do, only to encounter a family with not one, but FOUR virgins, ready for marriage. The Count discovers one-by-one that the girls are not as pure as they say they are, meanwhile a handsome servant/Communist begins to observe strange behaviour from the girls who do spend the night with the Count. It's a race for Dracula to discover who's the real virgin, before he either dies from malnourishment or from the wooden stake of the Communist!

Doors open at 7:30 pm
This is a free event, but donations are appreciated.
_____________________________________________
Announcing
We are now located at 2160 Hwy 70, East of Asheville
featuring:Expanded gallery space
Additional film screening area
Arts & crafts store
Visiting artist workspace
Open Mic every Sunday from 7:30pm to 9:30pm
Special exhibits & events
Twin Rivers Media Festival
Publish your Book of Poetry or Fiction

_____________________________________________
13th Annual International
Anything Goes...Everything Shows!
Mail Art Exhibit

Send in your entries for the 2016 exhibit!
Deadline Novermber 17th

Send Submission to:
Anything Goes, Everything Shows
Carlos Steward
PO Box 9907
Asheville, NC 28815
Check out these previous entries for ideas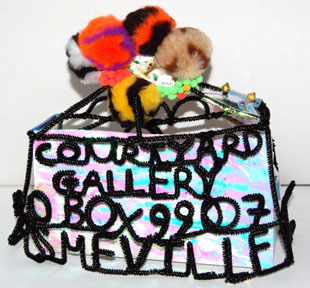 Courtyard Gallery • Top Floor
Phil Mechanic Studios • 109 Roberts St. • Asheville, NC
Using the postal system as a medium, participants have sent in a variety of fascinating entries! Artists were encouraged to explore imagery and themes of any kind, and use a variety of sizes, shapes and media. Viewers are encouraged to touch the entries, even interact. Favorite pieces from previous years are also included. Click here for more.
2013 MountainX: Mail Artist en masse
2011 article by James Shea - "Mail It In"
2010 4th Annual Mail Art Exhibit--"Anything Goes--Everything Shows III"
2009 Photo Gallery by Steve Dixon
2008 Review by Marshall Gordon
2007 Review by Connie Bostic
_____________________________________________
Support your local chapter


Veterans For Peace,
at the Courtyard Gallery
_____________________________________________
Join our forum--talk about art, literature, open mic, films etc!
Twin Rivers Media Festival Winners and Schedule
Click here for film and video festival information
Twin Rivers Media Festival was held May 27-29, 2011
The best animation, short drama, audio art, documentaries, and feature films submitted from throughout the world.

Join our Forum Discussions here!
The "True Home" Open Mic PODCAST now has over 180,000 Subscribers in 52 countries including Farkministan and GROWING. Now through Sonic Bids. See past Videocasting! View the True Home Open Mic.
The True Home Open Mic Featured in Bold Life Magazine.
Read about the Courtyard Gallery Podcast!
At The Courtyard Gallery and Agency, we know that good design is more than just pretty pictures. In order for design to be successful to your company, it must be smart, eye-catching, and relevant. It is the ideas that move the design, which in turn moves your product or service.

We are a full service design studio focusing on print design, logo creation, web design and development, and more. Check out all that the Courtyard offers under the services tab above.

Of course not everything we do is commercial. We are also supportive of the arts. Get directions and stop by the Gallery while in Asheville to check out some of the best work from artists across the country.

Twin Rivers Media Festival
Submit your films, video, audio art and multi-media projects. Complete film and video festival information and entry forms here.

Our Friends:
Construction and Remodeling Asheville
Discounted Women's Shoes
Phil Mechanic Studios
tourist map of Asheville
organic mattresses asheville
quality furniture, Northern AL
Asheville Spa and Resort, Bed and Breakfast
The Flood Fine Arts Center
The Black Mountain Press
Discount Brand Name Shoes, Housershoes.com