Courtyard Gallery
Sept. 2016 Events
Sept. 2 ~ "Good Morning"

by Yasujirô Ozu (Japan 1959)

A hilarious re-working of Ozu's silent film, this is the story of two young boys in suburban Tokyo who take a vow of sllence after their parents refuse to buy them a television set. An enchantingly satirical portrait of family life, romance, gossip, and the consumerism of modern Japan.

Sept. 9 ~ "Ciao, Professore!"

by Lina Wertmüller (Italy 1992)

An upper-class teacher finds himself teaching 3rd-grade truants at a ramshackle school. Yet he learns some valuable lessons from the scrappy students. A rambunctious comedy brimming with life!

Sept. 16 ~ "Where the Green Ants Dream"

by Werner Herzog (West Germany/Australia 1984)

A desolate stretch of earth somewhere in the heart of Australia. A group of tribal Aborigines struggles to defend a 40,000 year old sacred site, the place where the Green Ants dream, against the bulldozers of a mining company. it is quickly apparent that tribal laws and customs and beliefs are very different than Western laws — and how the issue will be resolved is sticky indeed.

Sept. 23 ~ "Stolen Kisses"

by François Truffaut (France 1968)

The 3rd installment in Truffaut's chronicle of the mischievous and perpetually love-struck Antoine Doinel. Antoine has been dishonorably discharged from the army and released onto the streets of Paris, where he stumbles into the unlikely profession of private detective and embarks on a series of misadventures.

Sept. 30 ~ "IF"

by Lindsay Anderson (UK 1968)

Lindsay Anderson's If…. is a daringly anarchic vision of British society, set in a boarding school in late-sixties England. Before Kubrick made his mischief iconic in A Clockwork Orange, Malcolm McDowell made a hell of an impression as the insouciant Mick Travis, who, along with his school chums, trumps authority at every turn, finally emerging as a violent savior in the vicious games of one-upmanship played by both students and masters. Mixing color and black and white as audaciously as it mixes fantasy and reality, If…. remains one of cinema's most unforgettable rebel yells.

Doors open at 7:45 pm and close at 8:15, so get there on time!
This is a free event, but donations are appreciated.
_____________________________________________
Announcing
We are now on the top floor of the Phil Mechanic Studios.
featuring:
Expanded gallery space
Additional film screening area
Arts & crafts store
Visiting artist workspace
Open Mic every Monday 8pm-11pm
Special exhibits & events
Twin Rivers Media Festival
Veterans for Peace office
Publish your Book of Poetry or Fiction

_____________________________________________
12th Annual International
Anything Goes...Everything Shows!
Mail Art Exhibit

Send in your entries for the 2016 exhibit!
Deadline October 17th

Send Submission to:
Anything Goes, Everything Shows
Carlos Steward
PO Box 9907
Asheville, NC 28815
Check out these previous entries for ideas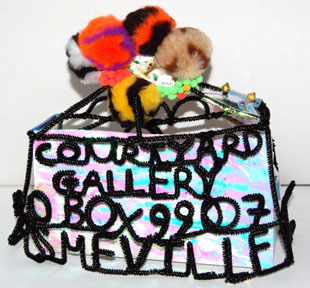 Courtyard Gallery • Top Floor
Phil Mechanic Studios • 109 Roberts St. • Asheville, NC
Using the postal system as a medium, participants have sent in a variety of fascinating entries! Artists were encouraged to explore imagery and themes of any kind, and use a variety of sizes, shapes and media. Viewers are encouraged to touch the entries, even interact. Favorite pieces from previous years are also included. Click here for more.
2013 MountainX: Mail Artist en masse
2011 article by James Shea - "Mail It In"
2010 4th Annual Mail Art Exhibit--"Anything Goes--Everything Shows III"
2009 Photo Gallery by Steve Dixon
2008 Review by Marshall Gordon
2007 Review by Connie Bostic
_____________________________________________
Support your local chapter


Veterans For Peace,
at the Courtyard Gallery
_____________________________________________
Join our forum--talk about art, literature, open mic, films etc!
Twin Rivers Media Festival Winners and Schedule
Click here for film and video festival information
Twin Rivers Media Festival was held May 27-29, 2011
The best animation, short drama, audio art, documentaries, and feature films submitted from throughout the world.

Join our Forum Discussions here!
The "True Home" Open Mic PODCAST now has over 180,000 Subscribers in 52 countries including Farkministan and GROWING. Now through Sonic Bids. See past Videocasting! View the True Home Open Mic.
The True Home Open Mic Featured in Bold Life Magazine.
Read about the Courtyard Gallery Podcast!
At The Courtyard Gallery and Agency, we know that good design is more than just pretty pictures. In order for design to be successful to your company, it must be smart, eye-catching, and relevant. It is the ideas that move the design, which in turn moves your product or service.

We are a full service design studio focusing on print design, logo creation, web design and development, and more. Check out all that the Courtyard offers under the services tab above.

Of course not everything we do is commercial. We are also supportive of the arts. Get directions and stop by the Gallery while in Asheville to check out some of the best work from artists across the country.

Twin Rivers Media Festival
Submit your films, video, audio art and multi-media projects. Complete film and video festival information and entry forms here.

Our Friends:
Construction and Remodeling Asheville
Discounted Women's Shoes
Phil Mechanic Studios
tourist map of Asheville
organic mattresses asheville
quality furniture, Northern AL
Asheville Spa and Resort, Bed and Breakfast
The Flood Fine Arts Center
The Black Mountain Press
Discount Brand Name Shoes, Housershoes.com