August Screenings:
August 1 ~ "Heart of Glass"
by Werner Herzog (West Germany 1976)
8-9:40 pm
A small village is renowned for its "Ruby Glass" glass blowing works. When the foreman of the works dies suddenly without revealing the secret of the Ruby Glass, the town slides into a deep depression, and the owner of the glassworks becomes obsessed with the lost secret.
August 8 ~ "Goya in Bordeaux"
by Carlos Saura (Spain/Italy 1999)
8-9:45
Artist Francisco Goya, deaf and ill, lives the last years of his life in voluntary exile in Bordeaux, a Liberal protesting the oppressive rule of Ferdinand VII. He continues to paint at night, and in flashbacks stirred by conversations with his daughter, by awful headaches, and by the befuddlement of age, he relives his life, his reveries becoming a tableau of his paintings.
August 15 ~ "The Red Balloon"
by Albert Lamorisse (France 1956)
8-8:45
One of the most beloved children's films of all time. In this deceptively simple, nearly wordless tale, a young boy discovers a stray balloon, which seems to have a mind of its own, on the streets of Paris. The two become inseparable, yet the world's harsh realities finally interfere. With its glorious palette and allegorical purity, the Academy Award–winning The Red Balloon has enchanted movie lovers, young and old, for generations. Only 34 minutes.
August 22 ~ "Bed and Board"
by François Truffaut (France/Italy 1970)
8-9:45
The fourth installment in François Truffaut's chronicle of the ardent, anachronistic Antoine Doinel, Bed and Board plunges his hapless creation once again into crisis. Expecting his first child and still struggling to find steady employment, Doinel (Jean-Pierre Léaud) involves himself in a relationship with a beautiful Japanese woman that threatens to destroy his marriage. Lightly comic, with a touch of the burlesque, Bed and Board is a bittersweet look at the travails of young married life and the fine line between adolescence and adulthood.
August 29 ~ "Shame"
by Ingmar Bergman (Sweden 1968)
8-9:45
Shame is grand master Ingmar Bergman's bitter and unsparing condemnation of war - all war, regardless of which side one chooses. The story begins with two ex-musicians, Eva and Jan Rosenberg (Liv Ullmann and Max von Sydow, respectively) peacefully inhabiting a weathered house where they grow fruits and vegetables away from civil war. The residence is located on a desolate, arid island in some unspecified geographic location when the war suddenly arrives and changes everything.
Doors open at 7:45 pm and close at 8:15, so get there on time!
This is a free event, but donations are appreciated.
_____________________________________________
Announcing
We are now on the top floor of the Phil Mechanic Studios.
featuring:
Expanded gallery space
Additional film screening area
Arts & crafts store
Visiting artist workspace
Open Mic every Monday 8pm-11pm
Special exhibits & events
Twin Rivers Media Festival
Veterans for Peace office
Publish your Book of Poetry or Fiction

_____________________________________________
9th Annual International
Anything Goes...Everything Shows!
Mail Art Exhibit

Send in your entries for the 2014 exhibit!
Deadline August 28th postmark, 2014

Send Submission to:
Anything Goes, Everything Shows
Carlos Steward
PO Box 9907
Asheville, NC 28815
Check out these previous entries for ideas
2014 Mail Art Exhibit
Opening Reception, Friday Sept. 5th
8pm to 11pm at the Courtyard Gallery, and Flood Gallery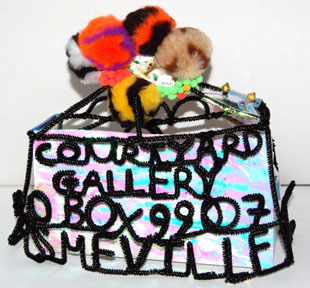 Courtyard Gallery • Top Floor
Phil Mechanic Studios • 109 Roberts St. • Asheville, NC
Using the postal system as a medium, participants have sent in a variety of fascinating entries! Artists were encouraged to explore imagery and themes of any kind, and use a variety of sizes, shapes and media. Viewers are encouraged to touch the entries, even interact. Favorite pieces from previous years are also included. Click here for more.
2013 MountainX: Mail Artist en masse
2011 article by James Shea - "Mail It In"
2010 4th Annual Mail Art Exhibit--"Anything Goes--Everything Shows III"
2009 Photo Gallery by Steve Dixon
2008 Review by Marshall Gordon
2007 Review by Connie Bostic
_____________________________________________
Support your local chapter


Veterans For Peace,
at the Courtyard Gallery
_____________________________________________
Join our forum--talk about art, literature, open mic, films etc!
Twin Rivers Media Festival Winners and Schedule
Click here for film and video festival information
Twin Rivers Media Festival was held May 27-29, 2011
The best animation, short drama, audio art, documentaries, and feature films submitted from throughout the world.

Join our Forum Discussions here!
The "True Home" Open Mic PODCAST now has over 180,000 Subscribers in 52 countries including Farkministan and GROWING. Now through Sonic Bids. See past Videocasting! View the True Home Open Mic.
The True Home Open Mic Featured in Bold Life Magazine.
Read about the Courtyard Gallery Podcast!
At The Courtyard Gallery and Agency, we know that good design is more than just pretty pictures. In order for design to be successful to your company, it must be smart, eye-catching, and relevant. It is the ideas that move the design, which in turn moves your product or service.

We are a full service design studio focusing on print design, logo creation, web design and development, and more. Check out all that the Courtyard offers under the services tab above.

Of course not everything we do is commercial. We are also supportive of the arts. Get directions and stop by the Gallery while in Asheville to check out some of the best work from artists across the country.

Twin Rivers Media Festival
Submit your films, video, audio art and multi-media projects. Complete film and video festival information and entry forms here.

Open Mic--Now Submit for our Virtual Open Mic Radio at Sonicbids.com Get Heard by 180,000 subscribers!
Our Friends:
Phil Mechanic Studios
tourist map of Asheville
organic mattresses asheville
quality furniture, Northern AL
Asheville Spa and Resort, Bed and Breakfast
The Flood Fine Arts Center
The Black Mountain Press
Discount Brand Name Shoes, Housershoes.com