Courtyard Gallery
June 2016 Events
June 3
La ronde
Director: Max Ophuls
Simone Signoret, Anton Walbrook, and Simone Simon lead a roundelay of French stars in Max Ophuls's delightful, acerbic adaptation of Arthur Schnitzler's controversial turn-of-the-century play Reigen. Soldiers, chambermaids, poets, prostitutes, aristocrats—all are on equal footing in this multicharacter merry-go-round of love and infidelity, directed with a sweeping gaiety as knowingly frivolous as it is enchanting, and shot with Ophuls's trademark mellifluous cinematography.
June 10
La haine
Director: Mathieu Kassovitz
Mathieu Kassovitz took the film world by storm with La haine, a gritty, unsettling, and visually explosive look at the racial and cultural volatility in modern-day France, specifically the low-income banlieue districts on Paris's outskirts. Aimlessly passing their days in the concrete environs of their dead-end suburbia, Vinz (Vincent Cassel), Hubert (Hubert Koundé), and Saïd (Saïd Taghmaoui)—a Jew, an African, and an Arab—give human faces to France's immigrant populations, their bristling resentment at their marginalization slowly simmering until it reaches a climactic boiling point. A work of tough beauty, La haine is a landmark of contemporary French cinema and a gripping reflection of its country's ongoing identity crisis.
June 17
The Lady Vanishes
In Alfred Hitchcock's most quick-witted and devilish comic thriller, the beautiful Margaret Lockwood, traveling across Europe by train, meets a charming spinster (Dame May Whitty), who then seems to disappear into thin air. The younger woman turns investigator and finds herself drawn into a complex web of mystery and high adventure. Also starring Michael Redgrave, The Lady Vanishes remains one of the great filmmaker's purest delights.
June 24
Port of Shadows
Down a foggy, desolate road to the port city of Le Havre travels Jean (Jean Gabin), an army deserter looking for another chance to make good on life. Fate, however, has a different plan for him, as acts of both revenge and kindness render him front-page news. Also starring the blue-eyed phenomenon Michèle Morgan in her first major role, and the menacing Michel Simon, Port of Shadows (Le Quai des brumes) starkly portrays an underworld of lonely souls wrestling with their own destinies. Based on the novel by Pierre Mac Orlan, the inimitable team of director Marcel Carné and writer Jacques Prévert deliver a quintessential example of poetic realism and a classic film from the golden age of French cinema.
Doors open at 7:45 pm and close at 8:15, so get there on time!
This is a free event, but donations are appreciated.
_____________________________________________
Announcing
We are now on the top floor of the Phil Mechanic Studios.
featuring:
Expanded gallery space
Additional film screening area
Arts & crafts store
Visiting artist workspace
Open Mic every Monday 8pm-11pm
Special exhibits & events
Twin Rivers Media Festival
Veterans for Peace office
Publish your Book of Poetry or Fiction

_____________________________________________
12th Annual International
Anything Goes...Everything Shows!
Mail Art Exhibit

Send in your entries for the 2016 exhibit!
Deadline October 17th

Send Submission to:
Anything Goes, Everything Shows
Carlos Steward
PO Box 9907
Asheville, NC 28815
Check out these previous entries for ideas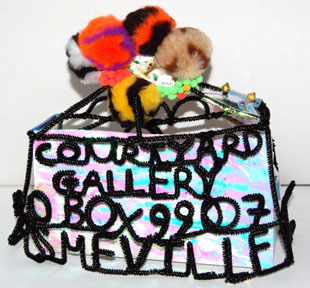 Courtyard Gallery • Top Floor
Phil Mechanic Studios • 109 Roberts St. • Asheville, NC
Using the postal system as a medium, participants have sent in a variety of fascinating entries! Artists were encouraged to explore imagery and themes of any kind, and use a variety of sizes, shapes and media. Viewers are encouraged to touch the entries, even interact. Favorite pieces from previous years are also included. Click here for more.
2013 MountainX: Mail Artist en masse
2011 article by James Shea - "Mail It In"
2010 4th Annual Mail Art Exhibit--"Anything Goes--Everything Shows III"
2009 Photo Gallery by Steve Dixon
2008 Review by Marshall Gordon
2007 Review by Connie Bostic
_____________________________________________
Support your local chapter


Veterans For Peace,
at the Courtyard Gallery
_____________________________________________
Join our forum--talk about art, literature, open mic, films etc!
Twin Rivers Media Festival Winners and Schedule
Click here for film and video festival information
Twin Rivers Media Festival was held May 27-29, 2011
The best animation, short drama, audio art, documentaries, and feature films submitted from throughout the world.

Join our Forum Discussions here!
The "True Home" Open Mic PODCAST now has over 180,000 Subscribers in 52 countries including Farkministan and GROWING. Now through Sonic Bids. See past Videocasting! View the True Home Open Mic.
The True Home Open Mic Featured in Bold Life Magazine.
Read about the Courtyard Gallery Podcast!
At The Courtyard Gallery and Agency, we know that good design is more than just pretty pictures. In order for design to be successful to your company, it must be smart, eye-catching, and relevant. It is the ideas that move the design, which in turn moves your product or service.

We are a full service design studio focusing on print design, logo creation, web design and development, and more. Check out all that the Courtyard offers under the services tab above.

Of course not everything we do is commercial. We are also supportive of the arts. Get directions and stop by the Gallery while in Asheville to check out some of the best work from artists across the country.

Twin Rivers Media Festival
Submit your films, video, audio art and multi-media projects. Complete film and video festival information and entry forms here.

Our Friends:
Construction and Remodeling Asheville
Discounted Women's Shoes
Phil Mechanic Studios
tourist map of Asheville
organic mattresses asheville
quality furniture, Northern AL
Asheville Spa and Resort, Bed and Breakfast
The Flood Fine Arts Center
The Black Mountain Press
Discount Brand Name Shoes, Housershoes.com